As connectors and translators that realize the mutual conversion of optical signals and electrical signals, optical modules are widely used in servers, switches, routers and wireless base station equipment in various network architectures, and play an important role in the communication network market and data center market. character of.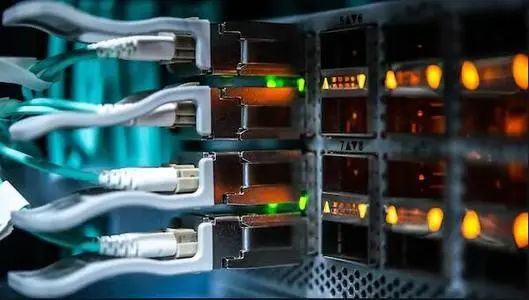 The optical module market is growing fast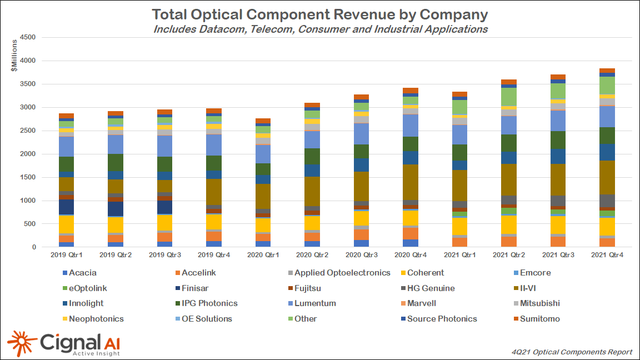 Market research firm Cignal AI released a new report saying that cloud computing vendors' capital expenditures for hyperscale data center expansion drove a 27% increase in datacom optical device revenue, reaching $4.7 billion in 2021. This growth outpaced growth in optical device revenue from telecom, consumer and industrial applications. In 2021, total optical device revenue in these four segments will increase by 15% to $14.5 billion.
In 2021, 60,000 400Gbps pluggable coherent optical modules will be shipped globally, most of which are QSFP-DD ZRs. In 2021, shipments of 200Gbps coherent CFP2 optical modules increased by 17% to just over 200,000 units, mainly from the Chinese market for longer-distance metro and long-distance applications.
Optical module product demand upgrade
Driven by the explosive growth of optical communication and data center transmission traffic, optical modules have undergone rapid upgrades from 2.5G, 10G, 100G, and 400G to 800G, and the rate will continue to increase in the future.
GLF load switch meets optical module design requirements
● Miniaturization: GLF load switch has an ultra-small WLCSP package with a maximum thickness of only 0.55mm, which is suitable for the miniaturization of optical modules.

● Low power consumption: The GLF load switch achieves ultra-low leakage current and the lowest RON in the standby state of the device, which greatly reduces the power consumption of the optical module in practical applications.

● Hot-plugging: In view of the hot-plugging requirements in practical applications, the GLF load switch integrates the soft-start function, and different soft-start times are suitable for different system requirements. In addition, the extremely low on-resistance reduces conduction damage and maintains stable power output.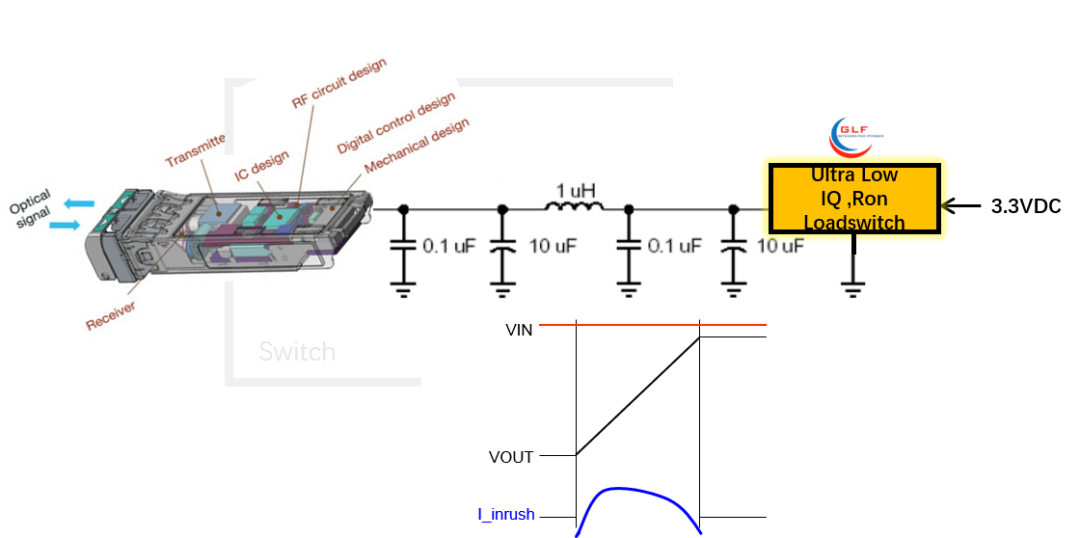 Targeted anti-surge design
When the optical module is hot-swapped, an anti-surge design is required to prevent equipment damage caused by excessive inrush current. The soft-start function of the GLF load switch can provide professional anti-surge protection for the optical module when the current is connected. GLF load switches can provide different soft-start times to match the response speed and inrush current requirements of optical modules during hot swapping.
GLF load switch recommendation
A variety of GLF load switch products have a wide range of practical application cases in optical modules, and tests such as startup time, hot-plug surge, and three-temperature conventional parameters all meet the optical module industry standards.
The star products GLF72120 and GLF71325 not only provide ultra-low-power current shutdown function in optical modules, but also adapt to a variety of voltage rail applications, which help to simplify inventory management and reduce procurement and operating costs.
True Reverse Current Blocking
4A,1.3uA IQ,40nA ISD,14mΩ RON
Slew Rate Controlled Load Switch
WLCSP 0.97mm x 1.47mm x 0.55mm
Load Switch with 105°C max
4A,1nA IQ,16nA ISD,18mΩ RON
Slew Rate Controlled Load Switch
WLCSP 0.97mm x 1.47mm x 0.55mm